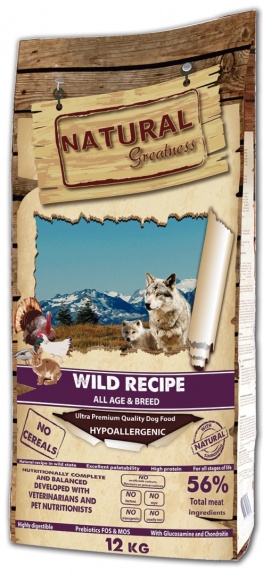 Ultra Premium Quality Dog Food - No Cereals - Hypoallergenic
Dehydrated Duck, Turkey and Chicken meat (29%), Fresh Rabbit meat (10%), Potato (14%), Chicken Oil (12%), Potato Protein, Yeast, Beet pulp, Hydrolysed chicken liver (4%), Linseed, Mineral substances, Mixed Herbs, Fish oil (0,25%), Inulin (FOS 0,1%), Mannan-oligo-saccharides (MOS 0,1%), Yucca, Glucosammine (650mg/kg), Chondroitin (150mg/kg).
Total meat ingredients: 56%
Excellent recipe formulated without cereals to meet the nutritional needs of all breeds in all stages of life, with a very high percentage of meat ingredients that dogs would find hunting in the wild. The meat used is human grade A, ensuring high levels of quality protein to help build and maintain muscle mass and energy.
For more information about Analytical Constituents, Vitamins & Minerals please press on photo.