Chicken with Yogurt, Banana and Strawberries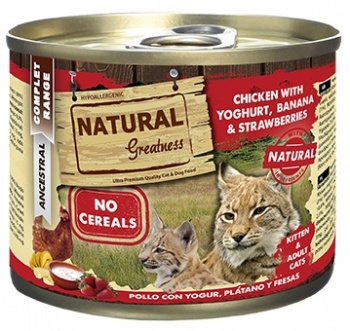 In addition, this recipe includes ingredients that provide numerous additional benefits:
YOGHURT: Yoghurt is a natural source of calcium, protein, potassium, and magnesium, and it also contains probiotics, such as Lactobacillus acidophilus, which is the natural inhabitant of the digestive tract. The bacteria contained in the yogurt are responsible for digesting the lactose contained in the milk, so yogurt does not have lactose because it has been consumed by lactobacilli.
BANANA: The first benefit of bananas is that they have a high potassium content. Potassium works because it helps keep bones from weakening, since it neutralizes the effects of too much sodium in the body and allows the cat's body to have healthy amounts of calcium. It also contains fructo oligosaccharides that serve as natural prebiotics, this means that they promote healthy bacteria in the intestine that can help prevent intestinal infections and allow the proper absorption of nutrients.
STRAWBERRIES: Strawberries are a source of vitamin C, which makes them a powerful antioxidant that enhances the immune system. In addition, they contain phenols, which help fight against the inflammatory processes of the body. Strawberries are also a source of B vitamins, such as vitamin B6, niacin, riboflavin, pantothenic acid and folic acid.
Strawberries are high in magnesium, potassium and vitamin K, which help boost the health of bones.
Analytical Constituents:
Crude Protein 10,8%
Crude Fiber 0,4%
Crude Fat 6,2%
Crude Ash 2,5%
Moisture 75,0%
Vit.and minerals:
Vitamin D3 - 200 UI/Kg
Iodine - 0,75 mg/Kg
Manganese - 3,0 mg/Kg
Zinc - 15 mg/Kg
Taurine - 1.500 mg/Kg