Rabbit and Duck with Carrots and Chamomile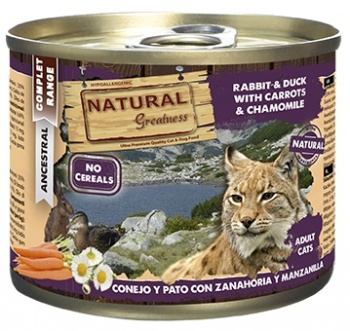 This complete food also incorporates in its composition the following ingredients:
Carrots: Carrots are rich in beta carotene and loaded with vitamin A, vitamin C and vitamin K, while it is also high in potassium and fiber. Good for the skin and eyesight.
Chamomile: Among the attributes of the herb are anti-spasmodic, carminative (gas relieving), anti-inflammatory, sedative, antimicrobial, digestive, vulnerary and anthelmintic activities.
Its use in cats as in humans, helps calm the nerves, relieve gastrointestinal problems, tone the stomach. It also helps young cats to prevent cancer and help fight or prevent infectious diseases, inhibiting the growth and reproduction of bacteria, fungi and viruses.
The ingredients are carefully processed fresh after a thorough veterinary examination and control. Thus we arrive at the highest level of quality and safety. Through the gentle steaming we get the properties of the ingredients remain practically intact in its entirety.
Analytical Constituents:
Crude Protein 10,6%
Crude Oils and Fats 6,6%
Crude Fibres 0,5%
Crude Ash 2,5%
Moisture 75,0%
Vit.and minerals:
Vitamin D3 -b200 UI/Kg
Iodine - 0,75 mg/Kg
Manganese - 3,0 mg/Kg
Zinc - 15 mg/Kg
Taurine - 1.500 mg/Kg