Salmon and Turkey with Pumpkin and Catnip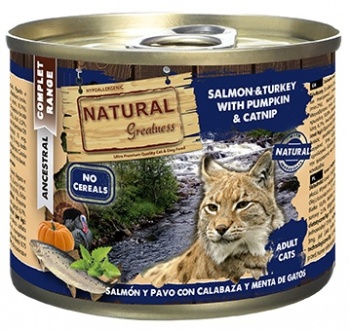 In order to provide maximum benefit and palatability to the recipe, plus we have enriched this complete food with:
Pumpkin: Low-calorie food rich in vitamin A, vitamin C, beta-carotene, fiber, potassium, zinc, calcium and magnesium. The fiber contained in pumpkin absorbs water and helps relieve stomach upset. It also contains antioxidants. It is ideal for overweight pets as it helps regulate blood sugar and increases cardiovascular health.
Catnip: The Nepeta cataria (catnip) is well known for its effects on the behavior of cats, both domestic and wild larger (and even big cats). The strong and pleasant that plant odor emanating, like mint, attracts them. The catnip helps maintain the health of the cat, and is ideal for getting cats with overweight or sedentary to exercise; also encourages them to play and improve their mood.
The ingredients are carefully processed fresh after a thorough veterinary examination and control. Thus we arrive at the highest level of quality and safety. Through the gentle steaming we get the properties of the ingredients remain practically intact in its entirety.
Analytical Constituents:
Crude Protein 10,8%
Crude Oils and Fats 6,7%
Crude Fibres 0,5%
Crude Ash 2,5%
Moisture 75,0%
Vit.and minerals:
Vitamin D3 - 200 UI/Kg
Iodine - 0,75 mg/Kg
Manganese - 3,0 mg/Kg
Zinc - 15 mg/Kg
Taurine - 1.500 mg/Kg