Lamb with Papaya, Cranberry and Rosemary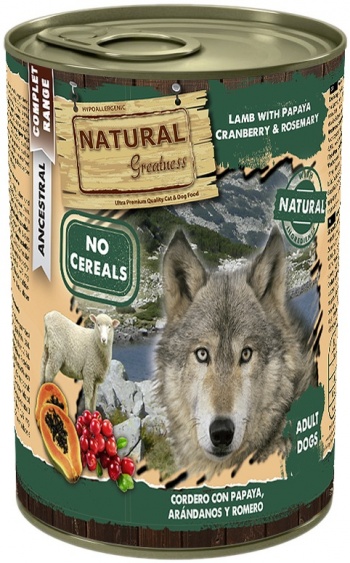 In order to provide maximum benefit and palatability to the recipe, plus we have enriched this complete food with:
Papaya: Rich in fiber which helps to treat digestive problems such as bloating and flatulence. In addition to fiber, papaya also contains Vitamin K, Vitamin E, Vitamin A, Vitamin C, folic acid and potassium. It is also a good source of magnesium and calcium, which is ideal for the growth of your pet. You can prevent heart disease and atherosclerosis, which is the thickening of the arterial walls. It also provides your dog more energy and strengthens your immune system.
Cranberries: Cranberries are the most common berry used to fight urinary tract infections in humans and the same applies to canine friends. Cranberries helps to prevent and control urinary tract infections by reducing the pH of dog urine. Adding cranberries to your dog's diet can result in a significant improvement in their healthy urinary tract. Blueberries are rich in antioxidants and minerals as well as vitamins A, C, B1 and B2.
Rosemary: This herb is high in iron, calcium and vitamin B6. Rosemary has also been shown to act as an antioxidant. It is suitable for preventive work in younger dogs as well as for adults. Rosemary stimulates blood flow to the brain and also reduces oxidative damage to tissues of the nervous system.
The ingredients are carefully processed fresh after a thorough veterinary examination and control. Thus we arrive at the highest level of quality and safety. Through the gentle steaming we get the properties of the ingredients remain practically intact in its entirety.
Analytical Constituents:
Crude Protein 10,6%
Crude Oils and Fats 6,9%
Crude Fibres 0,5%
Crude Ash 2,5%
Moisture 79,0%
Vit. and minerals:
Vitamin D3 - 200 UI/Kg
Iodine - 0,75 mg/Kg
Manganese - 3,0 mg/Kg
Zinc - 15 mg/Kg
Taurine - 1.500 mg/Kg