Salmon and Turkey with Pumpkin, Sweet Potato and Curcumin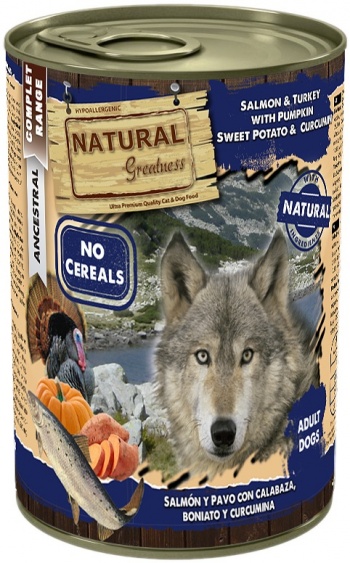 In order to provide maximum benefit and palatability to the recipe, plus we have enriched this complete food with:
Pumpkin: Low-calorie food rich in vitamin A, vitamin C, beta-carotene, fiber, potassium, zinc, calcium and magnesium. The fiber contained in pumpkin absorbs water and helps relieve stomach upset. It also contains antioxidants. It is ideal for overweight pets as it helps regulate blood sugar and increases cardiovascular health.
Sweet Potato: Heart healthy and easy on the digestive tract, sweet potato contains more nutrients than potatoes. They are beneficial for weight control and help reduce blood pressure. High in fiber, vitamin A, vitamin C, vitamin E and vitamin B.
Curcumin: It can inhibit the compounds involved in joint comfort. Helps prevent frequent / inconsistent stools and flatulence associated with very sensitive intestines. In addition to help with pain and inflammation, curcumin has many other health benefits. Among other things, it can support heart health by lowering LDL cholesterol and blood thickness; is a detoxifying; It is an antioxidant that has anticancer properties; which may help treat epilepsy, alleviating allergies, kill parasites and prevent cataract formation. Since it is an astringent can also be used to treat diarrhea.
The ingredients are carefully processed fresh after a thorough veterinary examination and control. Thus we arrive at the highest level of quality and safety. Through the gentle steaming we get the properties of the ingredients remain practically intact in its entirety.
Analytical Constituents:
Crude Protein 10,8%
Crude Oils and Fats 6,6%
Crude Fibres 0,5%
Crude Ash 2,5%
Moisture 79,0%
Vit. and minerals:
Vitamin D3 - 200 UI/Kg
Iodine - 0,75 mg/Kg
Manganese - 3,0 mg/Kg
Zinc - 15 mg/Kg
Taurine - 1.500 mg/Kg