Venison with Carrots, Pear and Dandelion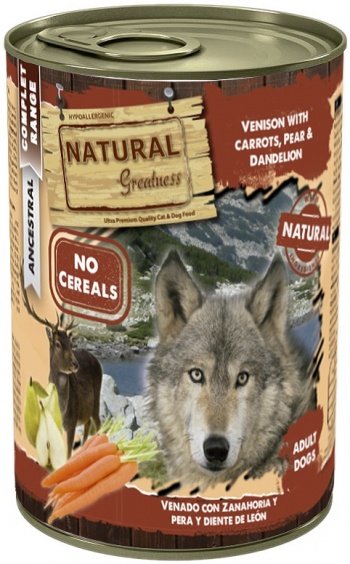 In order to provide maximum benefit and palatability to the recipe, plus we have enriched this complete food with:
Carrots: Carrots are rich in Beta carotene and loaded with vitamin A, vitamin C and vitamin K, while it is also high in potassium and fiber. Good for the skin and eyes.
Pear: Pears are naturally rich in vitamins C and K, as well as nutrients such as copper, all of which act as antioxidants to protect cells from your dog damage from free radicals. Pears are an excellent source of dietary fiber, and fiber is good for the heart.
Dandelion: Medicinal herb prized for its beneficial effects on the liver, kidney and urine pH value.
The ingredients are carefully processed fresh after a thorough veterinary examination and control. Thus we arrive at the highest level of quality and safety. Through the gentle steaming we get the properties of the ingredients remain practically intact in its entirety.
Analytical Constituents:
Crude Protein 10,7%
Crude Oils and Fats 6,8%
Crude Fibres 0,5%
Crude Ash 2,5%
Moisture 79,0%
Vit. and minerals:
Vitamin D3 - 200 UI/Kg
Iodine - 0,75 mg/Kg
Manganese - 3,0 mg/Kg
Zinc - 15 mg/Kg
Taurine - 1.500 mg/Kg