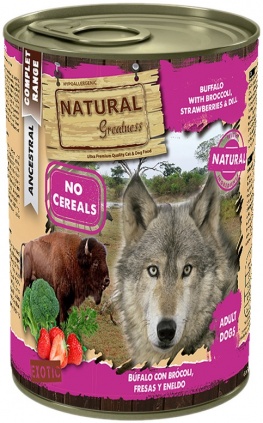 Super Premium Quality Dog Food
"Buffalo with Broccoli, Strawberries and Dill" recipe , contains as the only source of protein, buffalo meat.
Buffalo meat, unlike meat from beef, is lower in cholesterol and has a higher protein content. Buffalo has a higher concentration of iron and essential fatty acids. The buffalo meat is very tasty, so dogs love it ...
Buffalo (meat, heart, liver and lungs) (65%), meat broth (27,8%), Broccoli (2%), Strawberries (2%), Minerals (1%) Salmon Oil (0,2%), Dill (0,1%).
Available in 400 gr
For more information about Analytical Constituents, Vitamins & Minerals please press on photo.